Introduction
Getting ready to plan a wedding? Congratulations! This is a very exciting time for you. As you most likely already know, choosing the wedding venue is a crucial decision that must be made fairly early in the planning stages.
The team at The Evermore wants to ensure this process is both fun and smooth, which is why we've put together a list of tips for you to consider when choosing a wedding venue. Take a look!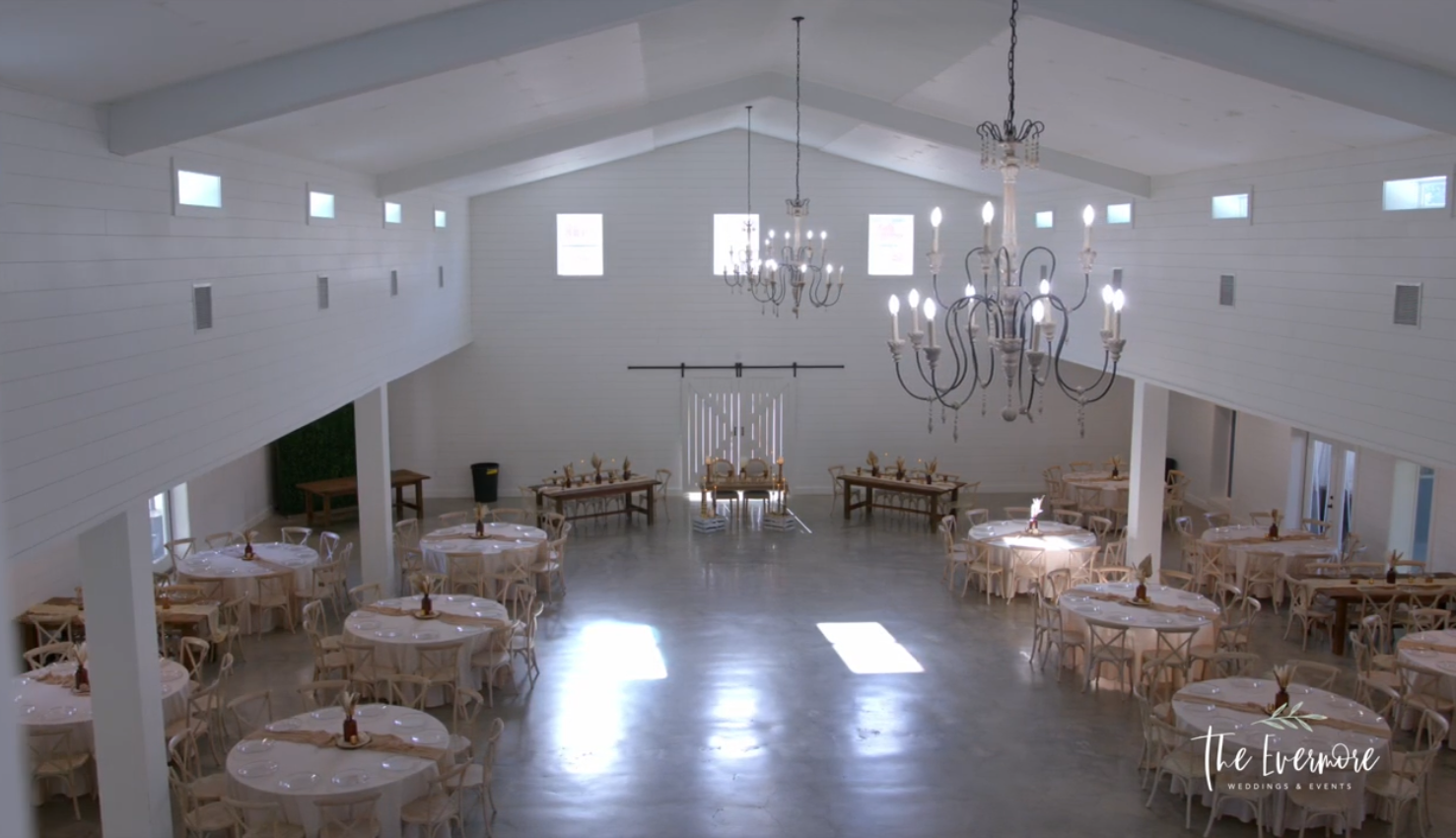 Consider Your Vision
First things first, we recommend discussing your wedding vision as a couple. What style or theme do you want for your wedding? Specific factors to contemplate include formal, rustic, casual, modern, indoor, outdoor, etc. Once it's determined the type or style of wedding you want, you'll be able to better narrow down your venue options.
Set a Budget
No one likes the "b" word, but it does play an important role in wedding preparations. So, determine how much you're willing to spend on the venue. This will allow you to narrow down your options and avoid venues that are out of your price range.
Create Your Guest List
How many people do you plan on inviting to the wedding? You don't have to write out a finalized list, but at least make a rough estimate of your guest count. Knowing the number of attendees will help you choose a venue that can comfortably accommodate your guests.
Visit Potential Wedding Venues
You've heard the expression, "Test drive the car before you buy it," right? The same applies when choosing the perfect wedding venue. It's necessary to schedule visits to potential venues, and when you get the chance to view the venue, pay close attention to the following:
Space: Does the venue have enough space for your ceremony, reception, and any other activities you have in mind for the big day?

Layout: Does the layout fit your vision? Think about the flow of the day, including the ceremony, cocktail hour, and reception.

Atmosphere: Does the venue match your style and theme? Can it be customized to your liking?

Amenities: Check if the venue provides essentials like tables, chairs, linens, and audio-visual equipment.

Parking: Make sure there's ample parking for your guests.

Restrooms: Are there clean and sufficient restroom facilities?

Backup Plan: For outdoor venues, inquire about a backup plan in case of bad weather.
Review Catering and Budgeting Options
If the venue doesn't have an in-house catering service, ask about the flexibility to bring in your own caterer or choose from a preferred list. Inquire about alcohol policies and whether you can bring your own or if there's an in-house bar service.
Ask for References
Request references from past couples who have used the venue. This can provide valuable insights into their experience.
Check Availability
Verify the venue is available on your desired wedding date. If it's not, consider being flexible with your date or looking for alternative venues.
Read the Contract Carefully
Read the venue's contract thoroughly. Pay attention to cancellation policies, payment schedules, and any hidden fees.
If you're interested in having The Evermore host your wedding, click here to contact us! We guarantee to make your big day an event to remember.